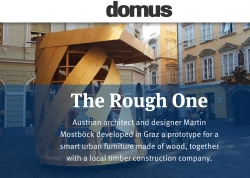 domus
Smart Urban Privacy | The Rough One
domus (online), Milano
As part of the Designmonat Graz 2017, five Austrian designers were invited to develop prototypes for a smart urban furniture made of wood, in collaboration with the Styria wooden cluster, together with five Styrian timber construction companies.
Martin Mostböck designed a basic dwelling, an archaic habitation from these geometric components: a simple cone with a canopy that rises at a point orthogonal to the ground. The object is a thought-provoking resting place in the accelerated world of mobile telephony and telephone mobility.
A visible object in the virtual space. A visually tangible hub in an unpredictable WLANdscape... a metaphor for privacy in public space. The built, fleeting idea of a center under virtual, de-central circumstances.
An object as a culmination point. An ephemeral intervention in urban space, temporary ... used or un-used, utilized or un-utilized, made visible... made of construction-timber and plywood... milled, roughly built and quickly erected...
…the Rough One
Go to project:
WIENER
Humor, Ironie und die Lässigkeit
by Anneliese Ringhofer
Wiener magazine (May 2017), Vienna
Ihre Wohnung im Heiligenkreuzerhof wirkt sehr italienisch, auf den ersten Blick liegt das wohl am Granitboden. Sind hier die Gepflogenheiten auch wie in Italien?
Sie müssen nicht die Schuhe ausziehen, wenn Sie das meinen (lacht).
Woran denken Sie, wenn Sie Italien hören?
Da kommen Kindheitserinnerungen hoch. In den 70ern reisten wir mit den Eltern oft nach nach Rom, Venedig oder Triest. Einmal hat der Maler die Räume in unserem Haus ausgemalt, nach einem halben Tag sind wir draufgekommen, dass wir hier eigentlich nicht bleiben können. Also sind wir spontan vier Tage nach Italien gefahren...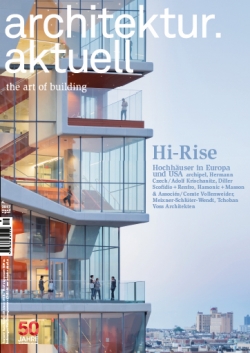 Architektur Aktuell
House for a Winegrower: dynamic construcions in Blaufränkisch country
by Matthias Boeckl
Architektur Aktuell (4. 2017), Vienna
New life in the villages.
Where, as many families left their old houses in the village centre, the threat of depopulation was often very real, a zone of hope has now been made.
In the villages of Eastern Austria structural change in the field of building takes place at a number of levels. On the one hand there is the classic flight from the land due to shortage of jobs, which causes entire village cores to decay. On the other the small old houses in the village centre no longer offer suitable economic structures for those businesses that continue to work the land here successfully and they therefore erect new, larger and more efficient units outside the centre. Then there is a kind of reverse process, the renovation of abandoned old houses by retired persons from nearby big towns who are looking for peace and quiet. And there is a sustainable, settled kind of change: the new use of old buildings by their old owners.
In the red wine region of central Burgenland Martin Mostöck has given this new life in the village an exemplary form. Once, like all its neighbours, the old building, a classic L-shaped farmhouse with its front directly on the village square beside the church in Horitschon, served as the home and working quarters of wine-growers, who at that time had only five hectares. Today the Lehrner-Iby family produces top-class red wines on around 20 hectares and erected a new house and business premises on the edge of the village a long time ago. As the youngest generation of the family now runs the business, the parents moved back into the old family house beside the church – but only after the intelligent conversion by Martin Mostböck, who also comes from this region.
The design idea proposed augmenting the long part of the L-shaped house with a new, parallel layer of space, at the same time creating numerous views through the existing fabric. The old residential part of the building was erected in 1953, above the ancient wine cellar, with the eaves facing onto the village square. Here Mostböck removed a mezzanine and create a generous living space that extends the full height of the building and offers new views of the church through a dormer made between the old roof timbers. As the house stands beside a stream, the new elements added had to be raised to protect them from possible flooding. Utilising this requirement Mostböck made a ramp with a 7% incline that leads to the upper floor with a new living area and bedroom at the rear of the building. On the ground floor a wellness zone was made. Beside it you can still descend to the atmospheric wine cellar with its centuries-old limestone and earth walls. In a structurally demanding way Mostböck, a former Coop Himmelb(l)au architect and successful designer, hung the new spatial zone, which runs parallel to the long, only 4.20 metre deep wing of the old building, from steel beams inserted at right angles in the old walls. "The entire spatial system is held together by the ramp", he explains, "It's like a crossover between the existing fabric and the additions." The client, who works for Braun Lockenhaus, used furniture from this producer to furnish the house, as well as individual pieces he designed himself. A fine example of how the substantial upgrading of old village structures can work.
ARCHITECTURE TODAY. HOUSES
New book out now!
by Manel Gutiérrez
Loft Publications SL, Barcelona
22,5 x 26 cm, 336 pages
ISBN en: 978-84-9936-971-6
This book celebrates the work of forty architecture studios devoted to Housing Architecture Singular influential forces are featured alongside emerging talents. Some have been widely awarded and published. They have offices spread out across the world, promoting their ideals and visions, and creating works that have the power of suggestion and that inspire emotion.
The participating architects - through some of their most notable works - offer their own theoretical positions, technical innovations and design contributions to the built world.
Each, in their particular way, thrives to offer design solutions that lead to societies' progress and well-being. Architecture Today: Houses is a compilation of a rich variety of house designs influenced by different factors. For a truly faithful presentation of the projects, the architects themselves explain their work in their own words.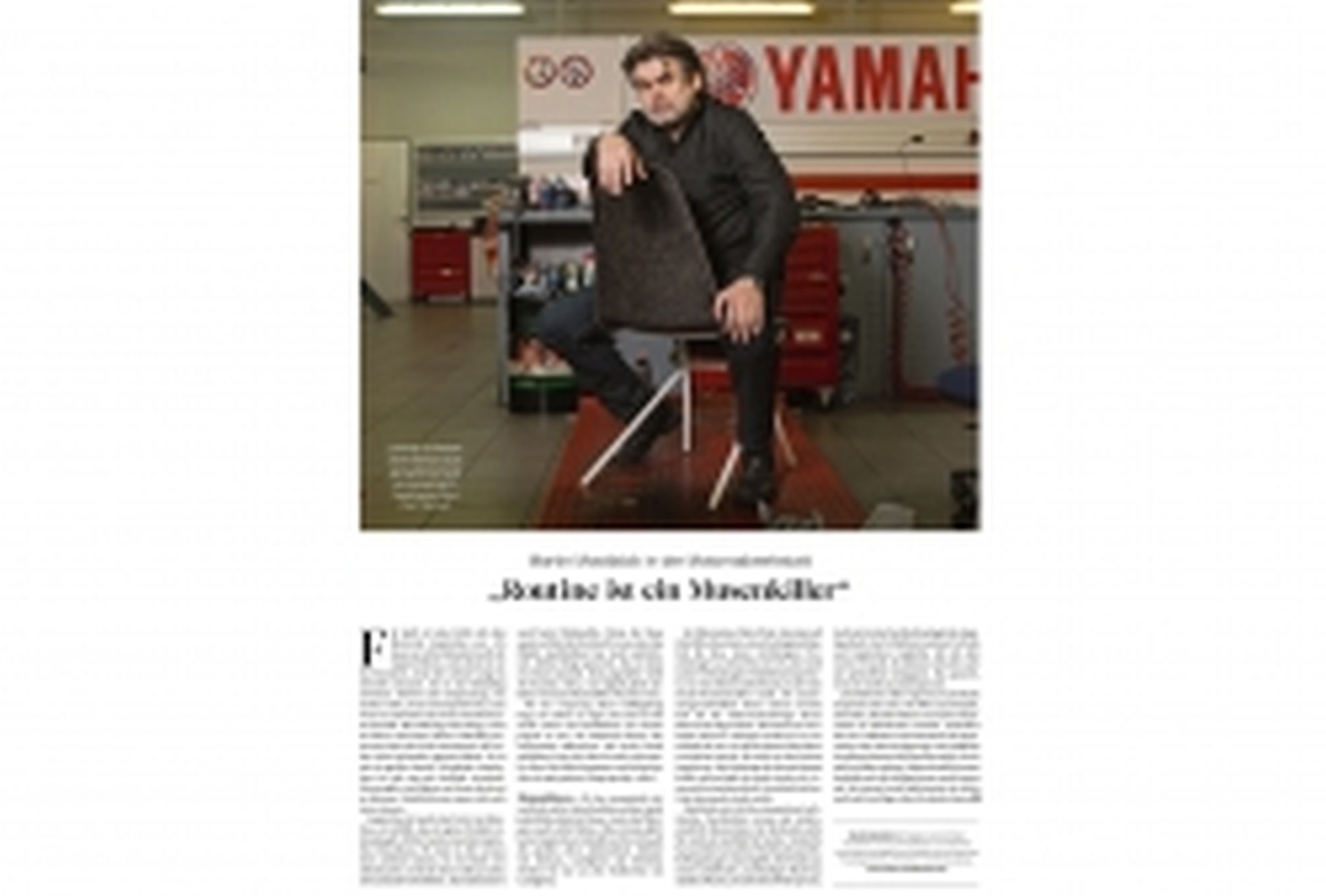 RONDO
Routine ist ein Musenkiller
Interview by Michael Hausenblas
Der Standard | RONDO, Vienna
"Für mich ist eine Fahrt mit dem Motorrad Inspiration pur. Ich muss nur zehn Minuten durch die Gegend fahren, und schon ist sie da. Besonders, wenn der sechste Gang ins Getriebe einrastet. Sie ist ein Mittelding zwischen Antrieb und Entspannung. Ich merke sofort, wenn ich inspiriert bin, auch wenn es sich dabei um etwas Unterbewusstes handelt. Man überlegt sich Dinge, sieht sie klarer und immer klarer. Plötzlich passen zwei oder drei Teile zusammen, die vorher nicht ineinander gepasst haben. Es ist wie ein großes Puzzle. Ich glaube, Inspiration ist sehr eng mit Instinkt verwandt. Diesem gilt es zu folgen, um Neues kreieren zu können. Natürlich muss man sich auch etwas trauen."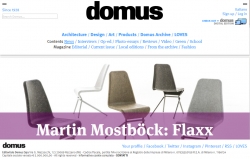 domus
FLAXX Chair
domus (online), Milano
Flaxx has a hybrid design which offers the comfort of a free-swinging chair as well as the functionality of a conventional four-legged chair.
The novel structure of the support frame and the combination of advantages from both designs is a contemporary interpretation in both form and function. The seat shell and frame are made of 100% recyclable materials. The seat shell is made from natural fibre mats, which are moulded into a stable three dimensional form by pressing multiple layers of the material; the mats predominantly consist of flax, an annually renewable raw material, and are held together by textile polypropylene as an adhesive.
The technology used to manufacture the seat shell originated in the automobile industry and is already used to produce interior components such as door trim panels and cargo area covers. Produced originally to demonstrate the versatility and the potential of a material developed for the automotive industry also in the area of interiors and design, it is today part of the Moroso product range.
AID ArchitectureInteriorsDesign
Martin Mostböck AID - ArchitectureInteriorsDesign
128 pages, German/English, Verlag Anton Pustet (Publisher)
Essays by Michael Hausenblas, Christian Desrues and Norman Kietzmann
ISBN-10: 3702508074
ISBN-13: 978-3702508074
"Architect and designer Martin Mostböck designs houses, furniture and equipment, interiors and objects of everyday use. He rejects all superficial styling, going back to the fundamentals in his design in order to achieve authenticity. He compares his approach to that of a design engineer who seeks out ideas which he can make not only visible but also palpable for other people and sees architecture as a shared journey, at the end of which all participants are happy. Working for leading European companies like Moroso, Eternit, Vorwerk and WMF his designs are part of some of the world's most prestigious museum collections such as the Museum of Arts and Design, New York, the Design Museum Holon, Tel Aviv and the Austrian Museum of Applied Arts (MAK), Vienna."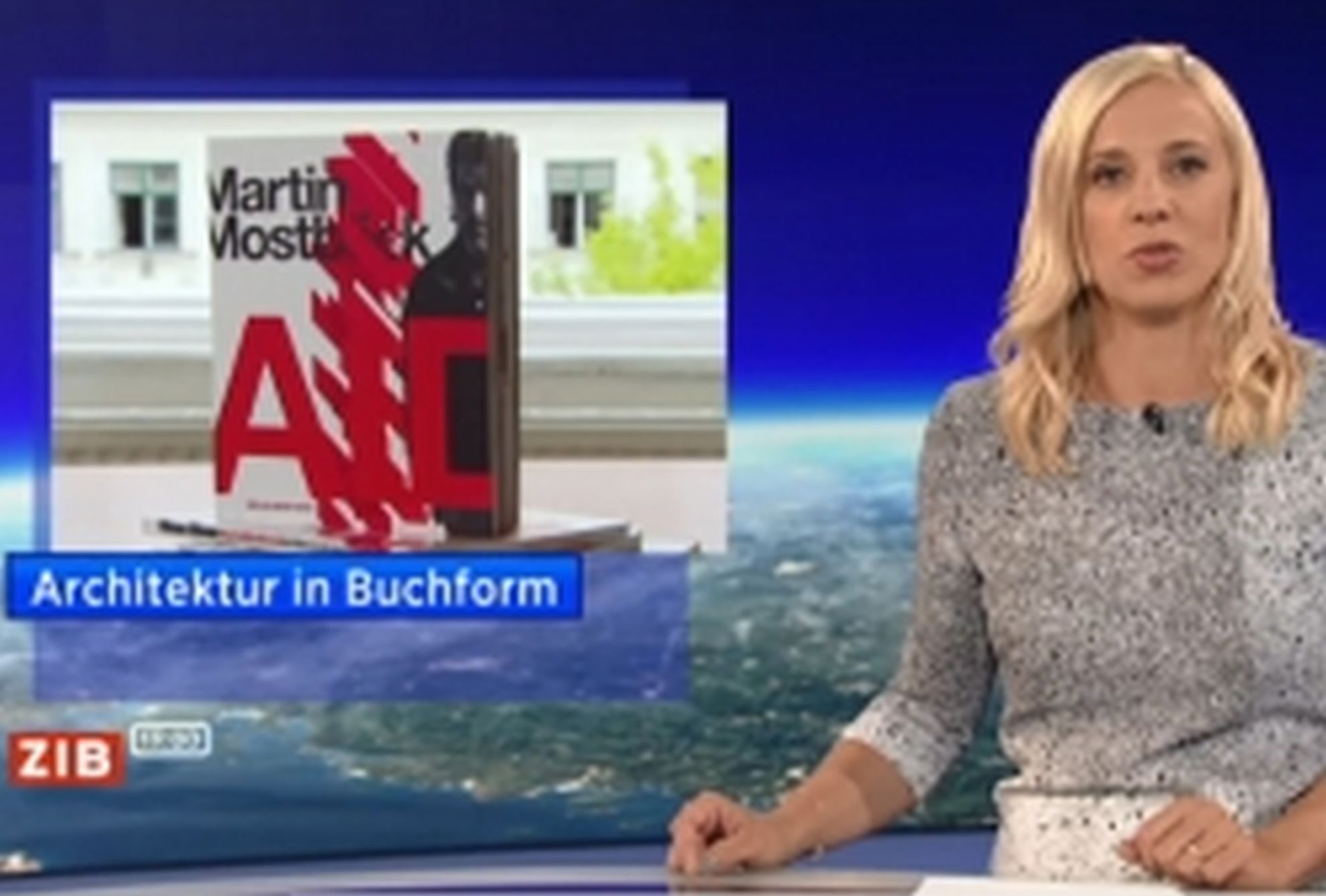 ORF (Austrian Broadcasting Corporation)
Architektur in Buchform
AID ArchitectureInteriorsDesign - Buch und Ausstellung in London
ORF ZIB 13:00, Vienna
"Architect and designer Martin Mostböck designs houses, furniture and equipment, interiors and objects of everyday use. He rejects all superficial styling, going back to the fundamentals in his design in order to achieve authenticity. He compares his approach to that of a design engineer who seeks out ideas which he can make not only visible but also palpable for other people and sees architecture as a shared journey, at the end of which all participants are happy. Working for leading European companies like Moroso, Eternit, Vorwerk and WMF his designs are part of some of the world's most prestigious museum collections such as the Museum of Arts and Design, New York, the Design Museum Holon, Tel Aviv and the Austrian Museum of Applied Arts (MAK), Vienna."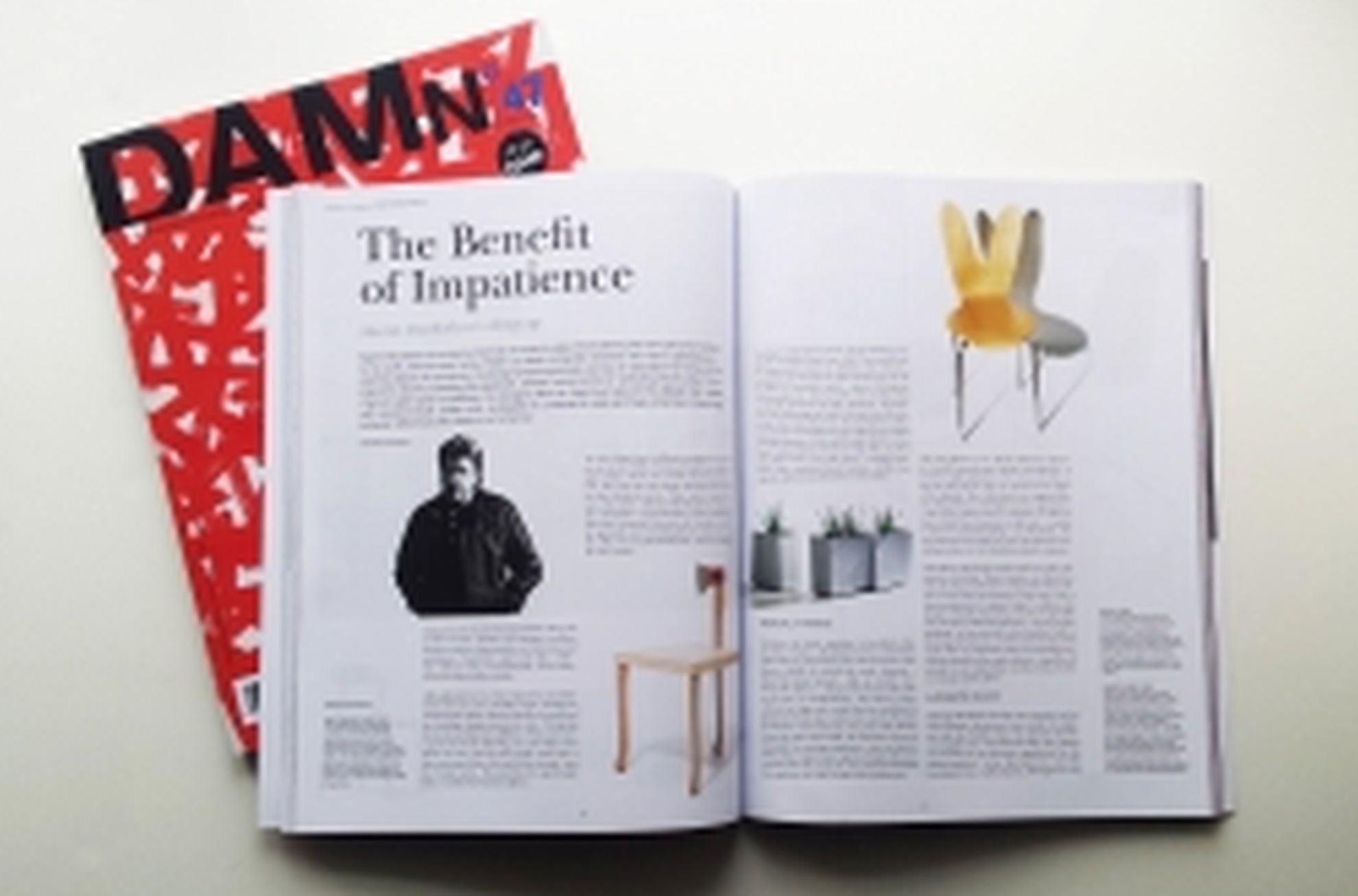 DAMn Magazine
The Benefit of Impatience
Interview by Norman Kietzmann
DAMn° Magazine, No. 47, Milano
"Martin Mostböck revs things up. Martin Mostböck is someone who has an uncanny way of transferring his own personal nature to his work, without even trying. There is a direct connection between the man's spiritedness and the objects he produces. His design projects precisely convey an adoration for irony and a knack for cleverly upsetting the applecart, without losing control or venturing into frivolity. From chairs to plant pots to buildings, the designer offers an ingenious take on the details that matter, with a potent result. Unlike most, he delights in contrasts of scale and type of product, dancing between differences like there is no tomorrow."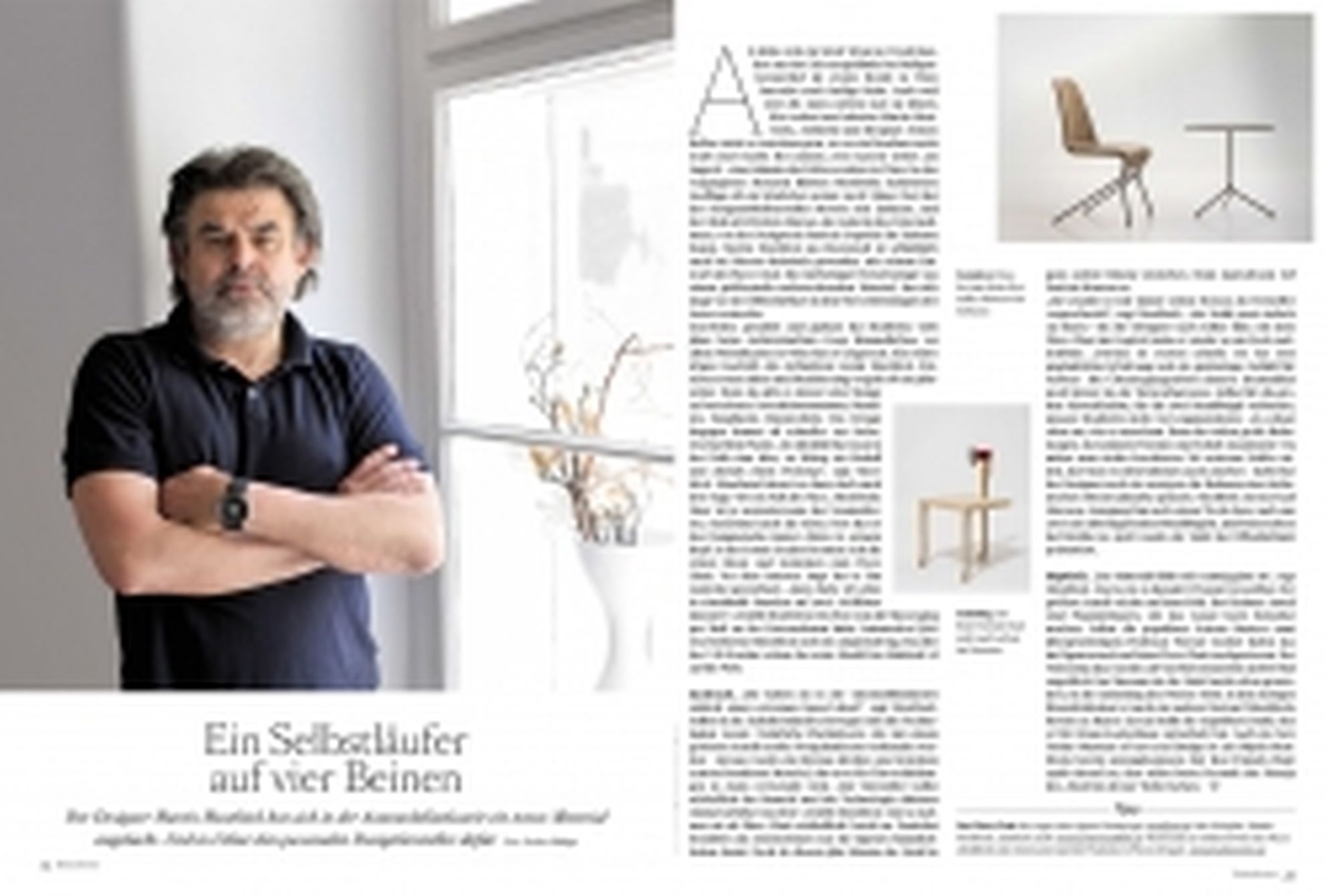 Schaufenster
Ein Selbstläufer auf vier Beinen
Interview by Norbert Philipp
Die Presse | Schaufenster, Vienna
"Als hätte sich ein Stück Wien im 17. Jahrhundert aus der Zeit ausgeklinkt: Im Heiligenkreuzerhof im ersten Bezirk in Wien herrscht noch heilige Ruhe. Auch weil dort die Autos stehen statt zu fahren. Hier wohnt und arbeitet Martin Mostböck, Architekt und Designer. Seinen Kaffee trinkt er trotzdem gern, wo es ein bisschen mehr wurlt und wuselt: Bei Zanoni, zwei Gassen weiter, am Lugeck – eine italienische Exklave mitten in Wien. In den vergangenen Monaten führten Mostböcks italienische Ausflüge oft ein Stückchen weiter, nach Udine."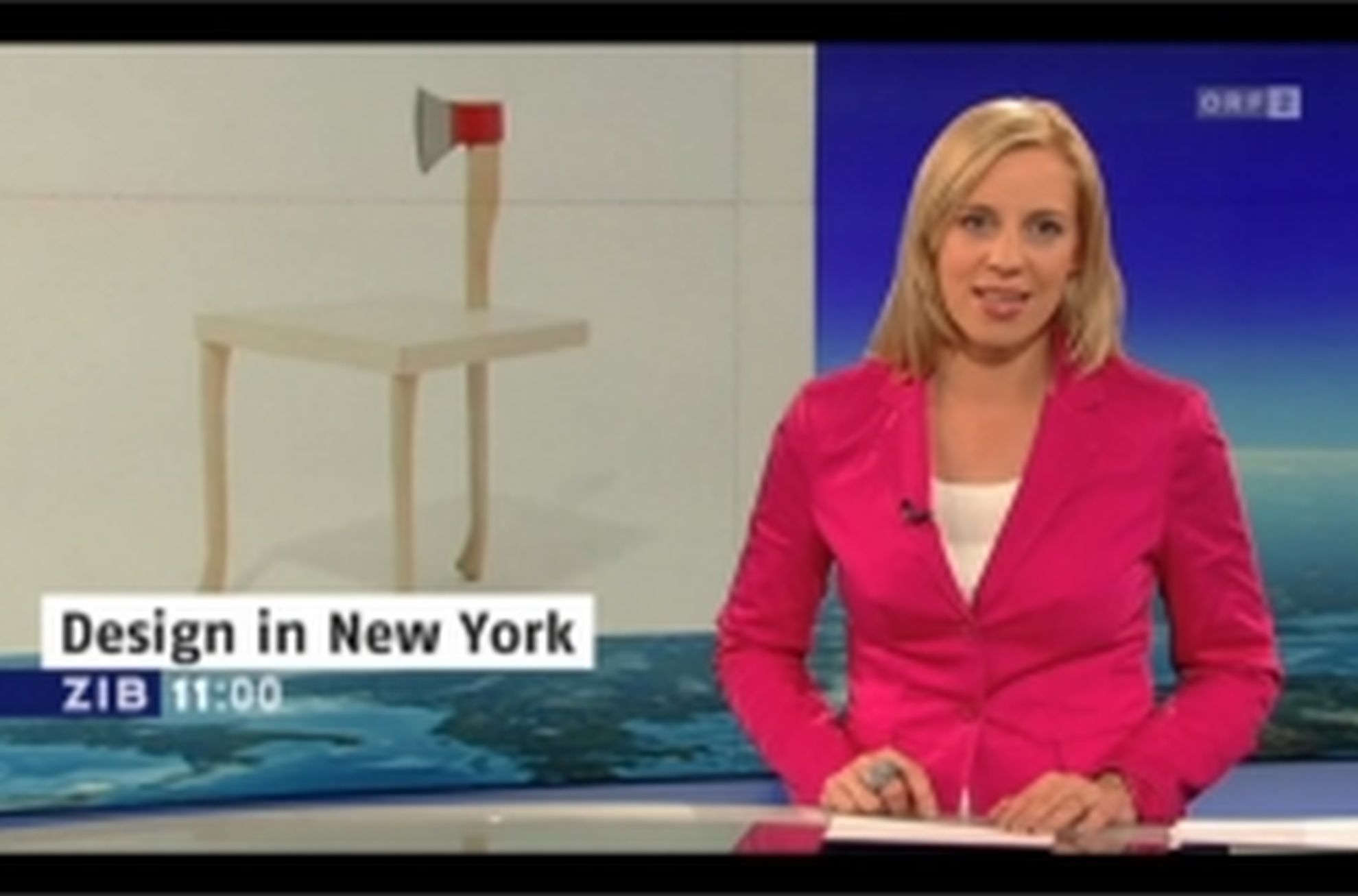 ORF (Austrian Broadcasting Corporation)
Design in New York
Best Friends Chair becomes part of the collection of the Museum of Arts and Design | New York
ORF ZIB 11:00, Vienna
"It is said that old furniture has a history. Very well, but most of the time, it is the one of its owners. But some new furniture also has a history, namely that of its origin. Martin Mostböck's object, "Best Friends Chair", was not born from practical considerations, as one can easily see. The creation arose from a reaction, so it is really a response to experiences, a personal catharsis. Experience is being processed, brought to shape. In Mostböck's native city of Vienna, which is, along with its many benefits, also known for its not always likeable idiosyncrasies of its inhabitants, people paraphrase exceptionally vile behaviour among people close to each other with a variety of colourful expressions. "A stab in the back" is one of them."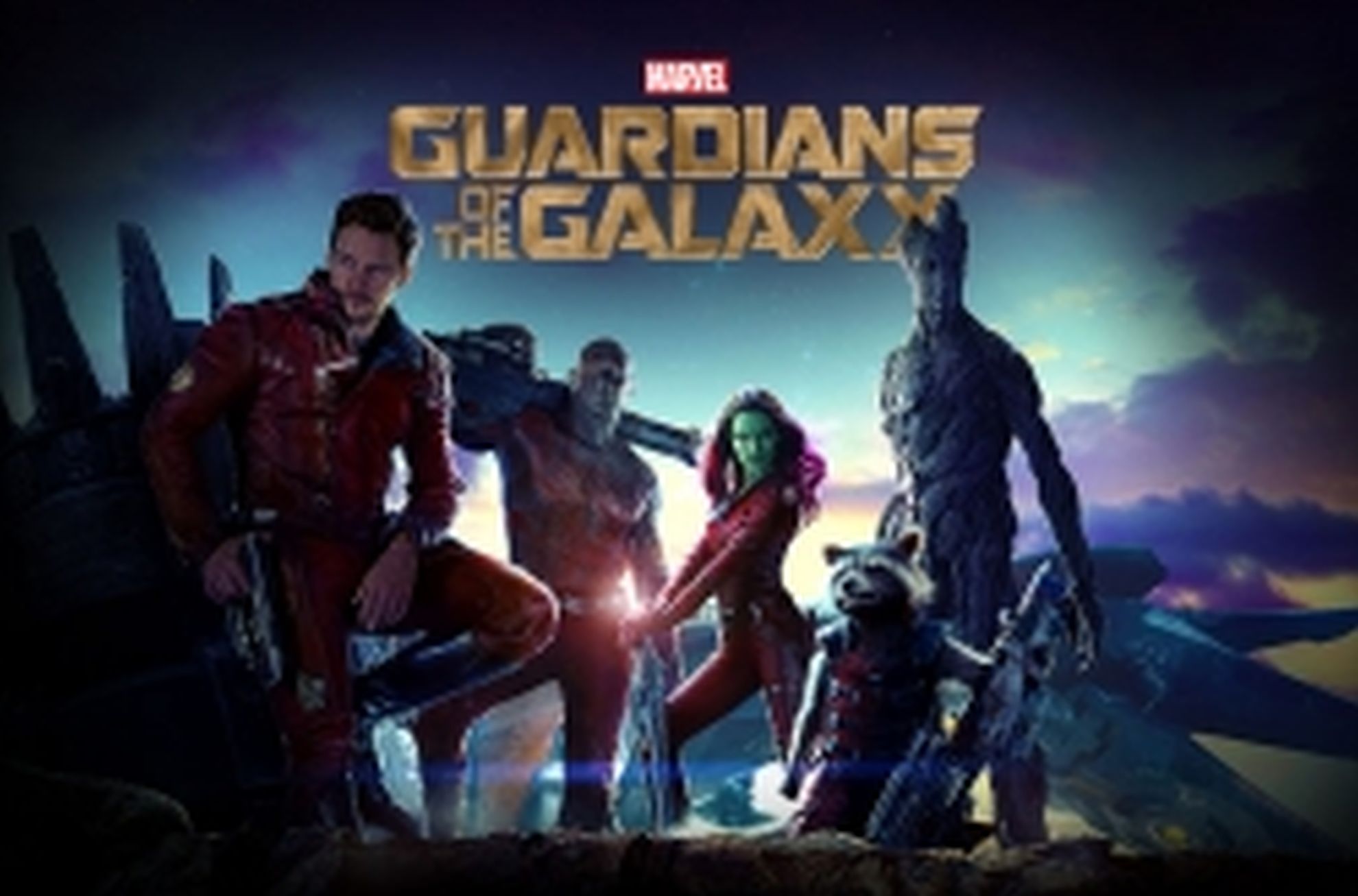 Architizer
From Product Design to Outer Space: Martin Mostbock Gets a Ride With Guardians of the Galaxy
Interview by Zachary Edelson
Architizer (online), New York
"Fantasy and science-fiction films draw us into elaborate worlds that are universes unto themselves, drawn entirely from the imagination. But even the most outlandish realms sometimes have elements that - despite their appearance - are not so otherworldly: they're made by real-world designers enlisted by Hollywood studios for the commission. The Vienna-based designer Martin Mostböck knows this well, having seen his creations move from Earth into the world of fantasy. The blockbuster film Guardians of the Galaxy featured futuristic products he created; in one scene set on the alien world Xander, Mostböck's angular and futuristic Edge.01, a floor lamp made of an aluminum composite panel, is located just outside the office of the character named The Broker."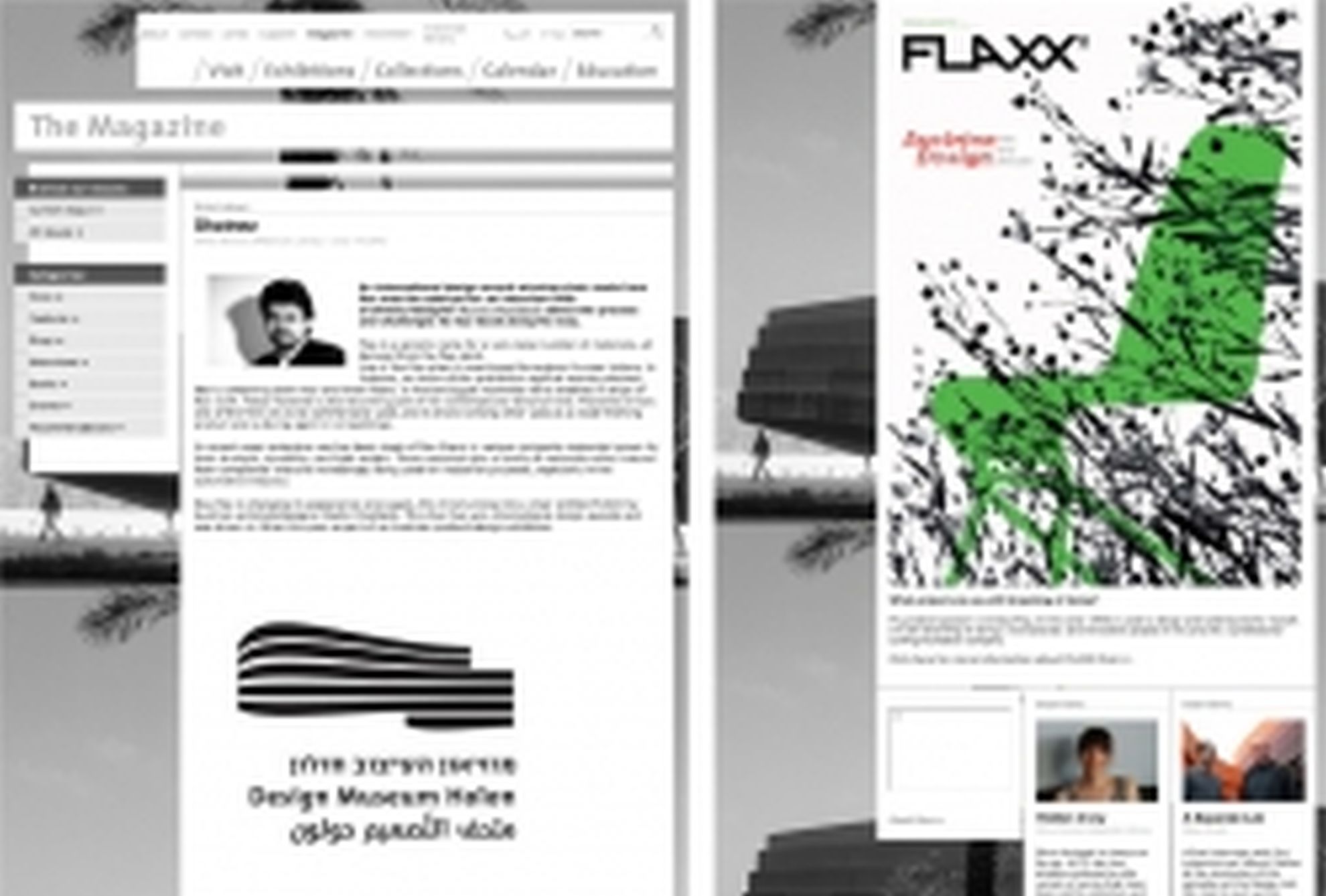 Design Museum Holon
Shatnez
Interview by Shira Shoval
Design Museum Holon (online), Tel Aviv
"An international design award-winning chair made from flax was the catalyst for an interview with architect/designer Martin Mostböck about the process and challenges he has faced along the way. Flax is a generic name for a very large number of materials, all derived from the flax plant. Use of the flax plant is mentioned throughout human history. In Judaism, we know of the prohibition against wearing shatnez, fabric containing both wool and linen fibers. In Ancient Egypt mummies were swathed in strips of flax cloth. Today flaxseed is also becoming part of the contemporary dietary trend. Flaxseed oil was one of the first oils to be commercially used, and is known among other uses as a wood finishing product and a drying agent in oil paintings."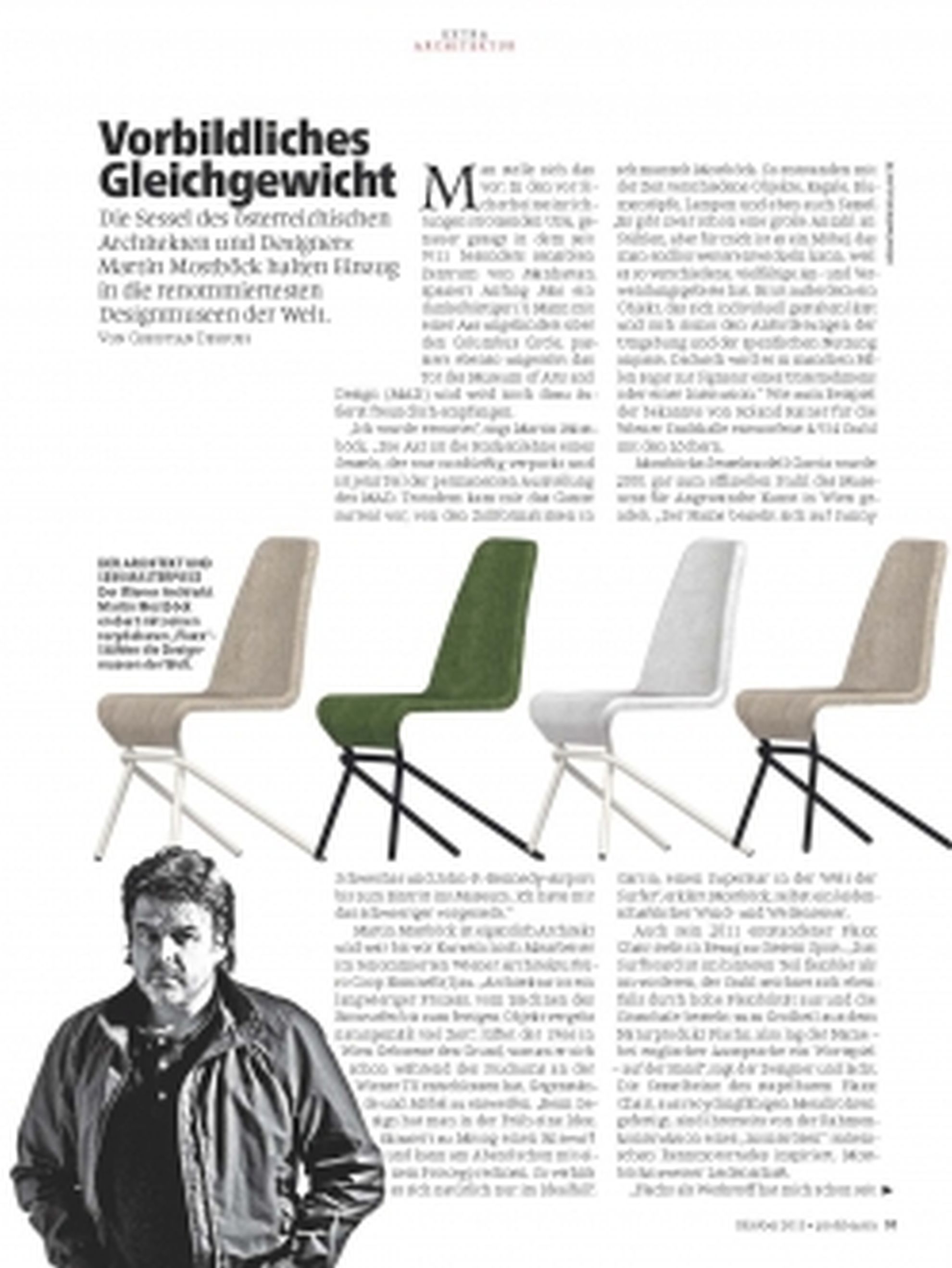 Profil
Vorbildliches Gleichgewicht
Interview by Christian DesRues
Profil magazine, Vienna
Man stelle sich das vor: In den vor Sicherheitseinrichtungen strotzenden USA, genauer gesagt in dem seit 9/11 besonders sensiblen Zentrum von Manhattan, spaziert Anfang Mai ein dunkelbärtiger (!) Mann mit einer Axt ungehindert über den Columbus Circle, passiert ebenso ungestört das Tor des Museum of Arts and Design (MAD) und wird noch dazu äußerst freundlich empfangen. "Ich wurde erwartet", sagt Martin Mostböck. "Die Axt ist die Rückenlehne eines Sessels, der war notdürftig verpackt und ist jetzt Teil der permanenten Ausstellung des MAD. Trotzdem kam mir das Ganze surreal vor, von den Zollformalitäten in Schwechat und John-F.-Kennedy-Airport bis zum Eintritt ins Museum. Ich hatte mir das schwieriger vorgestellt." Martin Mostböck ist eigentlich Architekt und war bis vor Kurzem noch Mitarbeiter im renommierten Wiener Architekturbüro Coop Himmelb(l)au. "Architektur ist ein langwieriger Prozess, vom Zeichnen des Entwurfes bis zum fertigen Objekt vergeht naturgemäß viel Zeit", lüftet der 1966 in Wien Geborene den Grund, warum er sich schon während des Studiums an der Wiener TU entschlossen hat, Gegenstände und Möbel zu entwerfen. "Beim Design hat man in der Früh eine Idee, skizziert zu Mittag einen Entwurf und kann am Abend schon mit einem Prototyp rechnen. So verhält es sich natürlich nur im Idealfall", schmunzelt Mostböck. So entstanden mit der Zeit verschiedene Objekte, Regale, Blumentöpfe, Lampen und eben auch Sessel. "Es gibt zwar schon eine große Anzahl an Stühlen, aber für mich ist es ein Möbel, das man endlos weiterentwickeln kann, weil es so verschiedene, vielfältige An- und Verwendungsgebiete hat. Es ist außerdem ein Objekt, das sich individuell gestalten lässt und sich somit den Anforderungen der Umgebung und der spezifischen Nutzung anpasst. Dadurch wird es in manchen Fällen sogar zur Signatur eines Unternehmens oder einer Institution." Wie zum Beispiel der bekannte von Roland Rainer für die Wiener Stadthalle entworfene 4/5/4 Stuhl mit den Löchern. Mostböcks Sesselmodell Garcia wurde 2001 gar zum offiziellen Stuhl des Museums für Angewandte Kunst in Wien geadelt.